About
"I was nearly brought to tears by the hauntingly gorgeous voice of Fairouz Foty as she sang an operatic aria"
(DC Theatre Scene – Chamber of the Hearts).
No Results Found
The page you requested could not be found. Try refining your search, or use the navigation above to locate the post.
About
"I was nearly brought to tears by the hauntingly gorgeous voice of Fairouz Foty as she sang an operatic aria"
(DC Theatre Scene – Chamber of the Hearts).
"It is true that real emotion transcends language and Amr El-Bayoumi did that beautifully throughout the play. Apart from please and thank you he spoke no English at all, but his despair, desperation and kindness came across through his story being etched on his face" – Nerve
"Brought to life through a muscular performance from Amr El-Bayoumi" – Liverpool Daily Post
"Emad, played by Egyptian American actor Amr El-Bayoumi, full of revolutionary fervor, comes from a different culture and changes their lives irrevocably. He chatters on in Arabic but both the cast and the audience understand exactly what he wants. His facial expressions alone makes you laugh" – Remote Goat
Fairouz Foty has become a sought out full-lyric soprano in the DC metropolitan area for some years now. She has sung in leading musical performance centers such as The Kennedy Center, Strathmore Hall, the Verizon Center, The Croatian Embassy, The Slovenian Embassy, The Bulgarian Embassy, The Egyptian Embassy, The Anderson House, The Arts Club of Washington, among others. This season she performed the role of Leonora with the Washington Opera Society in Il Trovatore excerpts and other Verdi Operas. She performed at the Argentinian Embassy as part of the Arts for the Aging (AFTA) Gala performance and will be performing at The Kennedy Center Reach Center, The French Embassy, The National Pen Women's Association among other prominent venues in the DC Metropolitan area this season.
Fairouz has performed the title of role of Cecilia in Maria & Cecilia with the In Series to stunning reviews. In addition she has performed the roles of Micaëla (Carmen, Carol Opera Company), Lauretta (Gianni Schicchi, Westminster Choir College Opera), Helena (A Midsummer Night's Dream, Westminster Choir College Opera), Voluptua (La pizza con funghi, Hubbard Hall Opera), Rosario (Goyescas, In Series), Mimi (La Boheme, Romez3arts), and covered the roles of Cio-Cio San (Madama Butterfly, Hubbard Hall Opera), and Tatiana (Eugene Onegin, Bel Cantanti). Last season Fairouz made her Mid-Atlantic Symphony Orchestra debut in Ethereal Voices, A Toast to the New Year. She also debuted the role of Violetta in La Traviata and performed with the Washington Opera Society in Croatian Christmas and Christmas in Slovenia. Fairouz was a Semi-Finalist in the 2018 Annapolis Opera Vocal Competition. She was invited to perform for the 55th-anniversary concert of the Compania Ernesto Lecuona in Teatro Milanese in Pinar del Rio, Cuba and in San Jose, Costa Rica as part of an intercultural exchange with Grupo31.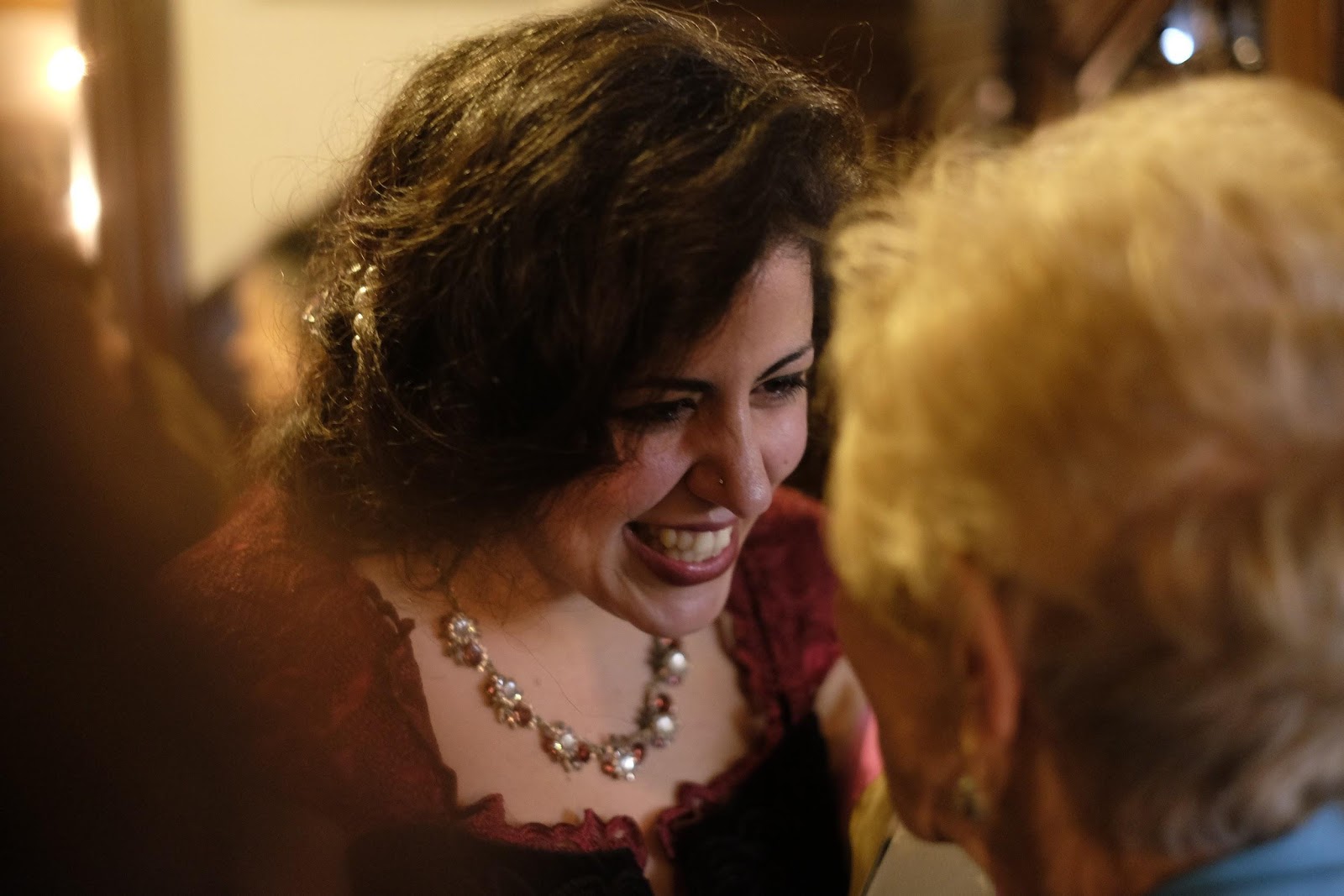 Fairouz's musical foundation began through Arabic music where her father, a virtuosic oud player and Arabic singer, taught her and her four siblings how to play and sing in Arabic. She is in the process of using her Western Opera skills to rewriting a unique genre of Arabic Opera that focuses on the works of early 20th century Arabic composers and musicians as well as fusing popular opera arias with Arabic music. Fairouz is the Artistic Director and Founder of Quartertonez Music, a music school that utilizes western classical pedagogy as well as improvisation, world music, and rote learning to create a unique holistic approach to teaching music. Each semester Quartertonez Music focuses on a different underrepresented genre or culture of music.
Fairouz received her Bachelor's Degree in Music and Africana Studies from Lafayette College in 2011 and continued her studies at Westminster Choir College, where she earned a Masters of Music in Vocal Performance and Pedagogy with an emphasis on Performance.